Transportation

For local transportation in Metz see
lemet.fr/plans-du-reseau/
Line B of the «METTIS» bus takes you directly from the railway station to the «Ile du Saulcy».
Metz is located in the eastern part of France close to the border with Germany and Luxembourg.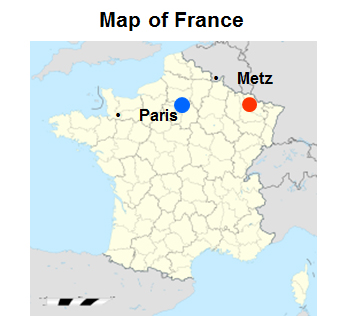 If you come
by car: wherever you come from go towards Metz Centre and then go towards «Ile du Saulcy» where you will be able to park your car for free.


by plane

Luxembourg (LUX)

This international airport (situated 70 kmfrom Metz) is rather small and very efficient.


To reach Metz from Luxembourg airport, you have two possibilities:

take the FLIBCO-bus (tickets available at https://www.flibco.com/en#/booking) that directly takes you to Metz in approximately 70 minutes (the bus stop to select is "METZ - Arrêt TIM avenue Foch 23 (next to Hôtel IBIS) ", which is very close to the railway station). It is not necessary to buy these tickets very early. One month in advance is enough.
take Bus 16 to Luxembourg railway station (bus stop in front of the airport exit - it takes about 20 minutes) and then a regional train to Metz (about 45 minutes). Bus and train tickets can be bought without prior reservation at the bus stop and railway station, respectively. For trains schedule Luxembourg-Metz : www.cfl.lu/en or https://www.oui.sncf/billet-train

Note: When flying in from outside Europe, say to City «A» (say Paris, London, Frankfurt, Madrid), it is worth asking your travel agency the cost of adding the extra flight City «A»-Luxembourg (often operated by Luxair). Strangely enough, prices are often lower than going to «A» only, and once in Luxembourg you are almost there !

Paris


There are two airports in Paris: Paris-Roissy Charles de Gaulle Airport (CDG) and Paris-Orly (ORY).


To reach Metz you will need to go first to the railway station «Gare de l'Est» using public transportation (www.parisaeroport.fr/en/homepage) or by taxi (45€). In either case, count at least one hour.


From «Gare de l'Est» high speed trains (TGV) take you to «Metz Ville» in 1h24 minutes.


For trains schedule Paris-Metz: en.voyages-sncf.com/en



Note of interest if you fly into Paris Charles De Gaulle (CDG) airport:

within the airport, there are very convenient direct (TGV) trains which take you in 1h10 minutes to the train station «Gare Lorraine TGV» located in Louvigny, about 30km from Metz. There are then frequent shuttles (6€ - 25 minutes) from «Gare Lorraine TGV» to «Metz Ville».



Other informations:



- if you arrive to Frankfurt Main Airport or to the low-cost destinations Frankfurt-Hahn (HHN) or Brussels South Charleroi (CRL) you may consider using the bus services www.flibco.com/?locale=en rather than trains.


Buses are slower than trains but they have the advantage of leaving directly from the airport.




- you may consider the following minor airports


Sarrebruck Airport about 1h from Metz:
www.flughafen-saarbruecken.de/index.php?id=1&L=1
Regional airport Metz-Nancy-Lorraine (30 km or 25 minutes from Metz)
www.metz-nancy-lorraine.aeroport.fr/



by train





The main railway station is «Metz Ville» located in Metz downtown.





Schedule and tickets:


SNCF (France): en.voyages-sncf.com/en
Deutsche Bahn (Germany): www.bahn.com/en/view/index.shtml
CFL (Luxembourg): www.cfl.lu/en
From the train station: take the bus "Mettis ligne B" direction "Saulcy" (it takes less than 10 minutes), and step down at the "Saulcy" station.